Police arrested a 23-year-old man late Wednesday night in connection to a hit-and-run crash that killed an elderly man in Boston's Allston neighborhood.
Phocian Fitts, 23, of Brighton, is facing charges of motor vehicle homicide and leaving the scene of an accident after causing death.

Minutes before investigators led Fitts from his house in hand cuffs, he told NBC10 Boston that he was driving the vehicle involved but that the hit-and-run crash was not his fault.
Boston Police say Fitts was driving a Jeep and took off after hitting an 80-year-old man in a cross walk in the area of 1316 Commonwealth Avenue around 12:50 p.m.
A witness told NBC10 Boston he heard a "loud bang," then saw the victim flying in the air before landing on the ground.
Witnesses say they ran to the man's lifeless body left lying in the road.
"Poor guy was crossing in the crosswalk. What a terrible way to go," Commissioner William Evans said.
Police located the Jeep at an apartment complex on Fidelis Way, about a half mile from where the collision happened.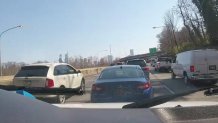 The Jeep has a cracked windshield and is missing a side mirror. The front quarter panel was also crushed.
Fitts will be arraigned in Brighton District Court. The court date was not immediately clear.
Authorities have not released the victim's identity.
The investigation is ongoing.