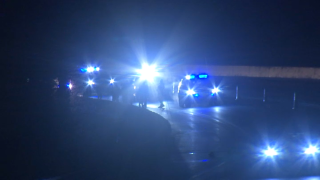 A hit-and-run crash early Friday morning left a 28-year-old pedestrian dead on Interstate 95 in Needham, Massachusetts, and state police were working to figure out what type of car may have been involved, authorities said.
Massachusetts State Police responded at around 1:20 a.m. to a person hit by a car north of Exit 33 on I-95 southbound, a spokesperson for the agency said. The victim, 28-year-old Justin P. Kelley of Canton, was determined dead on scene by Needham Fire and EMS, state police said.
The vehicle involved in the crash did not remain on scene after hitting the man, police said.
Before the crash happened, state police got a call reporting a pedestrian walking in the breakdown lane in that area of I-95, police said. A trooper was responding to find the pedestrian, but when they arrived on scene, the man had already been hit.
State troopers found debris that may have come from the vehicle that hit Kelley. Authorities were working to see if they could figure out what vehicle was involved by using the pieces found at the scene.
The crash scene cleared at around 4 a.m., and an investigation remained ongoing.