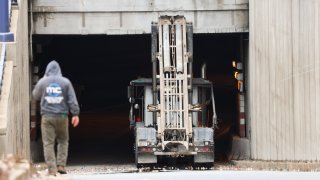 A truck got stuck on an entrance to Interstate 93 in Boston Wednesday.
The truck's lift was apparently engaged and hit the roof of the tunnel at the entrance to the southbound side of the highway at Purchase and Congress streets downtown.
Traffic was backed up on the street behind the on-ramp.
See more images here: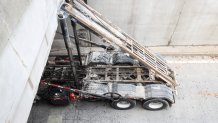 Trucks in Boston more commonly get stuck on Storrow Drive, with has several bridges with low clearance, giving rise to the term "Storrowing."
'Storrowed': 10 Years of Photos of Stuck Trucks on Boston's Storrow Drive