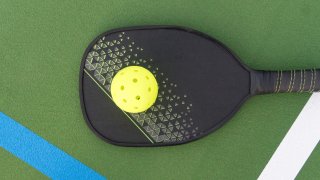 Paddler up!
Fenway Park will host a pickleball festival this year, giving Bostonians a chance to play one of the fastest growing sports in the nation at one of its most famous sports venues.
Pickleball4America's event at Fenway, part of its new Ballpark Festival Series combining professional and amateur pickleball tournaments, was announced last month.
Organizers, including the marketing arm of the group that owns the Red Sox, Fenway Sports Group, which is advising on the initiative, provided more details to the Boston Globe on Monday on what the festival will look like.
"People will have the opportunity to play and have access to hospitality, and there will likely be some sort of a commemorative gift they will receive as well," Mark Lev, president of Fenway Sports Management, told the newspaper.
During the festival — the date has yet to be announced — 12 pickleball courts will be set up on Fenway Park's outfield while the Sox are out of town. People and organizations will be able to rent the courts, according to the Globe.
So far, one other headlining venue has been announced for the Ballpark Festival Series: Oracle Park in San Francisco. Also last month, Pickleball4America announced it was merging with the USOpen Pickleball Championships, taking place in Florida this week and next.
Pickleball has been called the fastest-growing sport in the country. The mix of ping pong, tennis and volleyball played with paddles and a kind of whiffle ball has had millions of people play.
And Fenway Park, known for its concerts as well as its baseball games, has been hosting an increasingly diverse set of events as well. It's hosted hockey games, including two of the NHL's outdoor Winter Classic games, and last year hosted both a college football bowl game and a pop-up Top Golf locale.