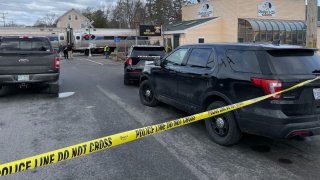 A man was fatally hit by an Amtrak train in Exeter, New Hampshire, Thursday in what authorities believe was a suicide attempt, police said.
Exeter police said that the pedestrian, a man whose name wasn't given but who wasn't from the area, was struck and killed in the area of the Front Street train tracks, close to the Exeter train station. The incident was reported about 10:05 a.m.
"Witnesses corroborated both evidence at the scene and information later gathered by Exeter Police to determine that the pedestrian had died of an apparent suicide," police said in a statement, urging anyone in distress to reach out for help.
If you or someone you know needs help, please contact the Suicide and Crisis Lifeline by calling 988, call the National Suicide Prevention hotline at 1-800-273-8255 or reach out to the Crisis Text Line by texting 'Home' to 741741 anytime.
Drivers were initially urged to avoid the area of the Front Street train tracks due to "a train incident." Traffic was expected to be detoured for an extended period of time.