A boy was hospitalized and another taken into custody after a fight at a bathroom at Medford High School Monday, police in the Massachusetts city said.
The injured boy, who was cut in the chest, first went to the nurse's office, then was taken to the hospital, according to Medford Police Captain Paul Covino.
The Medford Police Department confirms it responded to the high school around 10:10 a.m. for a report of a person stabbed. Responding officers determined the fight had taken place between two students in a men's bathroom. During the altercation, one student was stabbed in the torso. His injuries are considered non-life threatening and he was in stable condition, police said.
The second student was taken to Medford Police Headquarters shortly after and will be charged with assault and battery with a dangerous weapon (knife), according to police.
Cellphone video captured the fight in the second floor bathroom. At one point in the video, it appears to show a knife being passed from one person to another.
Everyone who was in the bathroom at the time of the fight was being taken to police headquarters, where they would be interviewed after their parents arrived, Covino said.
Local
In-depth news coverage of the Greater Boston Area.
Police said they don't expect anyone besides the suspect to face charges.
"It was obviously witnessed by other people in there. Since then, the person that is a suspect is now in custody and we're making arrangements to interview the other potential witnesses," Covino said.
While police investigated what happened, the school was placed on lockdown, with students kept in their classrooms. The shelter-in-place lasted approximately three hours.
The video of the fight circulated among students while they were stuck in their classrooms, and some texted it to their parents. More than a dozen concerned parents rushed to the school Monday morning, including George Scarpelli, but they were not allowed in or permitted to take their children out during the lockdown.
Scarpelli, a city councilor whose daughter is a senior at the high school, said he was receiving several text messages from his daughter and her friends.
"She texted me right away. Her friends texted me. 'Mr. Scarpelli, we're scared. What's going on? All they told is to shelter in place," he said. "Started getting text messages from their friends that someone was stabbed."
Several parents said there is an ongoing problem with bullying in the high school but the superintendent says Monday's incident had nothing to do with that.
"Medford High School is a safe school. Your children are safe here," Dr. Marice Edouard-Vincent emphasized. "The situation that took place today was an isolated event."
Still, what happened has parents and students upset. Counselors are being provided and the superintendent says this will be addressed with the entire school. There will also be an additional police presence when students return Tuesday.
"We want parents and families to know there's going to be a police presence, but it's safe to come to school tomorrow," Mayor Breanna Lungo-Koehn said.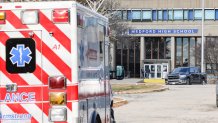 Earlier Monday, the mayor released a statement calling the stabbing a "vicious attack" and an "isolated incident" that is in no way "representative of the values and ideals the school administration strives for."
"It's a horrific day for our school community and I'm appalled that this happened," the mayor wrote. "My thoughts are with the families, students and our Mustang community."
Police reiterated this appears to be an isolated incident, and there is no ongoing threat to school faculty or students.
"The safety and security of our students is our top priority and we will make sure that they feel supported during this traumatic time," the mayor added.
During a fiery school committee meeting later Monday night, there were heated exchanges, as parents got emotional at times as they called for more security at school and asked if the safety of students matters.
"Our kids are afraid, my daughter doesn't want to go back to school," Scarpelli said at the meeting. "Where is the urgency? Where is your urgency?"
"What we've seen today is horrific," he added.
"We know there's a systemic issue, that's why we're here to try to help change that," one committee member said. "It takes a city council that is willing to work with their school committee and not get up here and yell at them in front of TV cameras. It takes working together, as a community, all of us."
Some parents at the meeting described the text messages they received from their children as the school was put on lockdown.
"I can't get to her, I cannot get to her, and she's scared and I'm scared for her," one mother said near tears. "I just don't feel these kids feel safe anymore."
"This is everyone's safety that is at risk. Do something. Do your job, and if you can't do your job, step down and let someone else do it for you," said one student who alleges she was assaulted at the school in October.
The superintendent spoke Monday night about the student who is in police custody, saying, "Once that portion of the investigation is completed, we as a school district, I can assure you, will follow what the law says...and we will definitely mete out discipline to highest extent possible."
The police department said it is working in conjunction with the mayor, the Medford school district, the Medford Fire Department, Massachusetts State Police and the Middlesex District Attorney's Office.