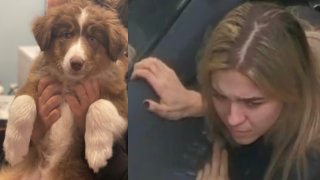 Police in Groveland, Massachusetts, are charging a woman who was caught on surveillance footage abandoning a puppy on Monday.
Groveland police said they were called to Main Street around 3 p.m. Monday for a report of an abandoned puppy. They said an Australian Shepherd puppy had been left in an alleyway.
Police said they have been able to determine via surveillance footage that the woman who abandoned the puppy had blonde hair and was wearing a black Maine School of Law sweatshirt and driving a black Mazda SUV.
The woman was summoned to appear at Haverhill District Court to face an animal cruelty charge.
The dog was not injured.