Police are searching for a man they say robbed and injured a woman in the parking lot of a New Hampshire Market Basket store.
Officials say a woman was loading groceries into her car at the Southgate Plaza in Seabrook Friday night when she was notified that a man had taken her wallet from her purse. When she confronted the suspect, the two got into a physical altercation and he ran to his vehicle to try to get away.
"He jumped into the vehicle, there was an altercation, the suspect punched the victim in the face," said Seabrook Detective Scott Mendes.
The woman, who has not been identified, grabbed hold of the suspect's door in an attempt to stop him, but she was tossed off after the car sped up around a corner. She was taken to a nearby hospital with multiple injuries and has not been discharged yet.
Surveillance video shows the woman being flung from the car, skidding across the lot and landing on the sidewalk.
Many shoppers at the same supermarket where the incident happened say they also keep their purse or pocketbook in their grocery cart.
"I always get yelled at from my boyfriend about it but it's just like a habit," said Bri Lacarubba. "It's just an easy spot to put it."
Local
In-depth news coverage of the Greater Boston Area.
Joe Michaud says she likes to use a carriage with a child safety strap and loop it through her handbag.
"I usually put that through my pocketbook so that if anyone were to run off it would hold them up," she says.
As for the continuing investigation, authorities released surveillance footage of the man on Sunday, but identified him Monday as 40-year-old Freddy Poisson, whose last known address was in Haverhill, Massachusetts.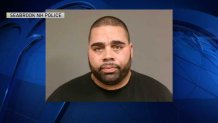 Authorities say Poisson was seen at a CVS, allegedly using the victim's credit card.
Police are also looking for a silver SUV, but the make and model are not known at this time.
While officials believe they know who the suspect is, they could use a good tip to locate him.
Anyone with information is urged to call the Seabrook police department at 603-474-5200, or the anonymous crime line at 603-474-2640.
If you want to speak to a detective in person, you can also visit the Seabrook police department at 7 Liberty Lane.