Police in New Hampshire have arrested a man accused of placing potentially threatening signs referencing a "school shooter" that were found in three towns, setting off lockdowns at multiple schools Friday.
Earlier in the day New Hampshire Department of Safety said it was working with local law enforcement to investigate after the signs were found Friday in Barnstead, Epsom and Pittsfield. All three towns are located close together, just east of Concord. The signs prompted extra police presence at all schools in those areas while investigators ruled out any credible threats.
Friday afternoon New Hampshire State Police announced the arrest of 61-year-old Guy Hanson, a Pittsfield resident, in connection with the case.
Hanson faces a felony charge of falsifying physical evidence and three misdemeanors: false report to law enforcement, false public alarm and criminal threatening. It was not immediately clear if he has an attorney.
The signs were spotted just days after Tuesday's school shooting in Uvalde, Texas, which left 19 children and two adults dead and has schools across the country on high alert.
A photo of one of the signs showed what appeared to be a common paper plate with the words "School Shooter!" written in black ink. Police said they blurred out what appear to be additional words "to protect the integrity of the investigation."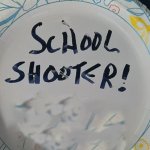 No other suspects have been charged, but anyone with information on the investigation is asked to call New Hampshire State Police Sgt. Kempes Corbally at Kempes.R.Corbally@DOS.NH.GOV.