Police are investigating the attempted kidnapping of a 5-year-old boy on Tuesday afternoon at a playground in Rochester, New Hampshire.
Rochester police said they were called to the Rochester Commons on South Main Street around 5 p.m. Tuesday for a report of an attempted kidnapping.
The caller said that a woman with gray hair, wearing all black, approached her 5-year-old son and said "I am taking you for a walk." She then took him by the hand and tried to walk away with him. The boy's older brother ran over and grabbed the child and took him back to their mother.
"Grabbed him by the head, lightly pulled the head into her chest area, then took him by the hand and decided to walk off with him," said Capt. Todd Pinkham of the Rochester, NH Police Department. "Made some sort of comment to the juvenile "come with me let's take a walk."
The mother told police she confronted the woman, who walked away and left in a black SUV with tinted windows, possibly a Chevy Equinox or similar vehicle.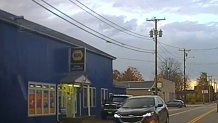 The woman had grey hair and is believed to be in her 50s or 60s. She was dressed in all black.
As the woman walked off, another person at the Rochester Commons was able to briefly take a video recording of her.
The encounter never became physical and no one was injured, police said.
Moms and grandmothers at the playground say they are constantly on guard because it doesn't take long for a child to slip away but that they feel safe in this particular area.
"It's a great park, it's wide open, so I never feel unsafe," said Kim Murphy, who takes her grandkids to the park. "You can see what's going on, I always keep him within eyes distance anyway."
"Sometimes some people here look a little bit different," said Lynne Lampron, who takes her grandkids to the park. "They look like they're homeless or something going on, so I keep my distance from them but I feel safe."
Police are asking anyone who recognizes the woman or her vehicle or who has any other information about the incident to call them at (603) 330-7128.
Anonymous tips can also be provided to the Rochester Crime Line at (603) 335-6500 or by sending a text to CRIMES (274637) with TEXT4CASH+ along with the tip in the body of the text. Cash rewards are offered for information that leads to an arrest.