Authorities are investigating a fatal shooting Thursday morning in Methuen, Massachusetts, according to the Essex County District Attorney's office.
Methuen police responded to reports of shots fired in the area of Kimball Road around 5:24 a.m., the district attorney's office said. Upon arrival, they found 22-year-old Ewdy Lopez suffering from apparent gunshot wounds. He was taken by ambulance to Lawrence General Hospital, where he later died.
Police surrounded a house on Kimball Road, where the shooting occurred, and forensics teams were on scene on Thursday morning.
Tire tracks could be seen coming across front yard of that home and the home next to it. A car appeared to have gone through a fence into a wooded area behind the homes.
Next door neighbors Cindy and Greg awoke to gunfire.
"Just the pops. Pop pop pop, sounded like about 10 pops, sounded like fireworks but we knew it was gunshots."
"We woke up towards the end of it, it was loud and woke us up from a sleep," said Katie Valcourt, another neighbor.
Neighbors said the young man who was killed is an electrician and they believe he was targeted as left for work.
"He must have been in his house getting ready to go to work. He comes out around 5:30 to go to work. He had to come out to get in his car and to me it looks like someone was waiting for him," Greg said.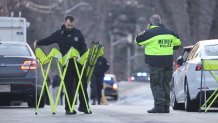 Neighbors said the victim then crashed his car across the street into a backyard after he was shot. That car was towed away with significant damage.
Cindy and Greg say they're often leaving for work at the same time, and the shooting in such a quiet neighborhood is unsettling.
"That's why we're so unnerved to it could have been one of us getting shot because he always goes out to warm my car up for me, it's terrible, I'm un nerved because this was always such a safe neighborhood," Cindy said.
The investigation remains active, the district attorney's office said. Investigators do not believe this was a random act of violence and said there is no ongoing threat to public safety.
Lopez's family has asked for privacy.
Sign up for our Breaking newsletter to get the most urgent news stories in your inbox.
Photos from the scene