A man was killed in Malden, Massachusetts, early Wednesday morning, and his 27-year-old son is charged with stabbing him to death, authorities said.
The victim, 65-year-old Mohammed Khaouda of Malden, was found in a parking garage at the Pleasant Plaza apartment complex on Dartmouth Street early Wednesday morning, police and prosecutors said. He died after being taken to Melrose Wakefield Hospital.
His son, Yassine Khaouda, also of Malden, was charged with murder, assault and battery with a dangerous weapon causing serious bodily injury and assault and battery on a person over 60, the Middlesex District Attorney's Office said.
Chilling details were revealed in Malden District Court during Yassine Khaouda's arraignment later Wednesday.
Yassine Kahouda did not show himself in court as the prosecutor described how he allegedly ambushed his father, stabbing him to death in the garage of their apartment building. Assistant DA Daniel Harren described a plot to commit the crime saying Yassine Khaouda waited for his parents to enter the garage early Wednesday morning.
"The defendant had woken up earlier this morning. He prepared himself to assault his father. Taken a number of steps to do so. He waited in the parking garage for them," the assistant DA said in court. "When the father entered the parking garage he stabbed him in the neck. Ultimately his father succumbed to his injuries and was pronounced dead this morning."
Local
In-depth news coverage of the Greater Boston Area.
The prosecutor alleged in court that Yassine Khaouda prepared for the crime by wrapping two knives in plastic wrap, taking the elevator to the garage and then waiting. Harren said Yassine Khaouda then stabbed his father, and returned to the 7th floor apartment the family shared.
Police found him inside the apartment and took him into custody without incident. According to court papers, Yassine Khaouda commented that he was not sure if he would be decapitated "because I just killed Mohammad."
The stabbing was reported about 5:40 a.m.
When police arrived at the scene Wednesday, they found Mohammed Khaouda in the parking garage of Pleasant Plaza apartments suffering from stab wounds. The subsequent investigation revealed that his son allegedly stabbed him before fleeing back to the apartment where they both lived.
Photos from the scene showed a man being taken to an ambulance on a stretcher outside the Pleasant Plaza apartment complex. Another man was seen being taken away in the back of a police cruiser.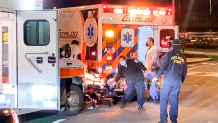 People who live in the Pleasant Plaza apartments were shocked to wake up to a big police presence Wednesday morning.
"I woke up at 5 a.m. and a lot of cars, police," Natalia Nat said. "It's crazy and I didn't know what happened."
Tyson Singleton lives across the street and says his brother was stabbed in his building in a separate, unrelated incident.
"You can't even feel safe in an establishment that you pay rent in and that really sucks because you are paying for… we pay for parking, we pay for security, we're paying to live so why aren't we safe where we live?," Singleton asked. "It doesn't make any sense to me."
The investigation into Wednesday's stabbing remains open and ongoing, the district attorney's office said.
Yassine Khaouda was held without bail. He's due back in court on Jan. 12.