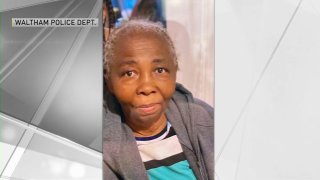 Police in Massachusetts have found the missing Waltham woman they were searching for.
Shortly after 8:15 p.m. Saturday, Waltham police said Rose Marie Oscar, 65, who has dementia and diabetes, was safely located.
She had last been seen around 12:30 p.m. in the Cushing Street.
Massachusetts State Police had asked Bay State residents to please keep an eye out for Oscar, urging anyone who saw her to call the Waltham Police Department or 911.
Waltham police thanked everyone who provided tips and spread the word about Oscar.