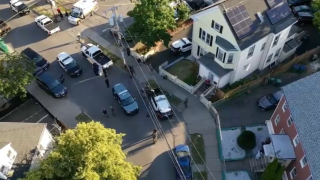 A man is under arrest after barricading himself inside a Lynn, Massachusetts home with his young child, leading to an overnight standoff with police.
Police said the Massachusetts Department of Children & Families visited the Hanover Street apartment Friday evening to do a well-being check, when the man reportedly became upset and barricaded himself in the basement with his 3-year-old daughter.
According to police, the man was holding a cylindrical object with a wick on one end, and police reportedly also observed a machete and crossbow in the basement.
Police negotiations with the man to release the child and surrender began Friday night, and ended by midday Saturday.
According to the Massachusetts State Police, hours into negotiations on Saturday morning, the man poured flammable liquid inside his apartment and began lighting fireworks.
The Massachusetts State Police tactical team entered the home late Saturday morning and were able to safely remove the young girl. Police also used beanbag projectiles to subdue and arrest the man, they said.
No additional details have been released.