A suspect is in custody Thursday night after police say he fired at officers in Framingham, Massachusetts.
Police asked people in the area of Edgell Road to shelter in place as they responded to the active shooter. According to Framingham Police, a suspect fired a long gun at officers in the area of Edgell Street and Whiting Road. No officers have been injured.
Framingham Police have identified the suspect as Justin Breakspear. They say officers responded to a civil matter between him and a woman at the Slice of New York pizza shop on Edgell Road around 6:15 p.m. Later, around 8:30 p.m., a female caller reported that Breakspear had left their home with a gun.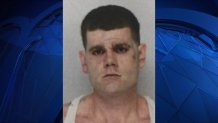 Due to Breakspear's history, police say, many officers responded. After they arrived, officers reported that shots had been fired.
During a standoff, state police say the man was on the roof of the pizza shop. A state police negotiator was trying to make contact with him from the ground, and a helicopter was monitoring him from above.
Police say troopers used a long-rage accoustical device on a Bearcat vehicle to command the suspect to come down.
Local
In-depth news coverage of the Greater Boston Area.
After he surrendered, just before 11 p.m., state police said they would search to see whether he left a gun on the roof.
Framingham Police noted that Breakspear has a history with the department.