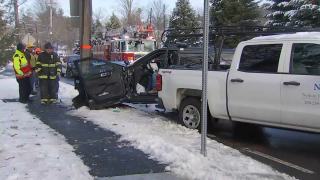 A police officer was involved in a crash in Wellesley, Massachusetts, Tuesday morning.
The crash, which involved multiple cars, shut down Grove Street between Cottage Street and Benvenue Street before 11 a.m. on Tuesday.
Authorities on scene said that the police officer should be fine, and was taken to a nearby hospital. First responders added the officer was the only one taken to the hospital.
Additional information has not been released.