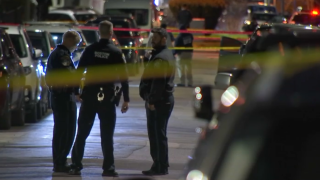 Police on Friday identified the victim of a double shooting in Boston's Roxbury neighborhood Tuesday night.
Junior Pimentel De La Cruz, 27, of Dorchester, was found with with gunshot wounds at the scene of the shooting near 66 Walnut Park around 11 p.m. He was pronounced dead on scene. A second victim was transported to a local hospital with non-life-threatening injuries. 
Police were questioning two people of interest, Suffolk County District Attorney Kevin Hayden said earlier this week. Police have not given any updates on whether any arrests have been made.
The shooting came one day after another person was shot and killed near Orchard Park in Roxbury. Shootings have also been reported in South Boston, Roslindale, Charlestown and Revere over the last week. Despite the spate of violence in Suffolk County, Hayden said he does not believe the community should be worried about random shooting sprees.
"I don't think the community needs to be concerned in terms of random shooting sprees… it appears to be targeted," Hayden said. "But by the same token, I think communities should always be concerned whenever these sorts of things are happening in their community."
Authorities were notified of the Roxbury shooting by a ShotSpotter activation, a gunshot detection system used by police.
Police have not released the identity of the other shooting victim. No further information was immediately available.
Recent Shootings in Suffolk County