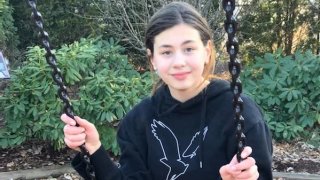 Holliston police found a previously missing 11-year-old girl safe in Milford, Massachusetts.
Pearl Josephine "Josie" Thompson was missing from her Holliston home Friday but was found safe. She was with Holliston officers, including one of a school resource officer.
No additional information was immediately available.
Correction (March 11, 2022 1:36 p.m.): A previous version of this story incorrectly stated where the child was found. The story above has been corrected to reflect that she was located in Milford, Mass.