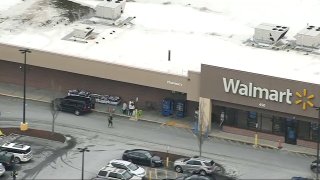 A 20-year-old Massachusetts man is facing charges after an incident at a Walmart in Salem on Sunday led to a police search in the area.
Formal charges were filed Monday against Salem resident Jesus Padilla for vandalism of property, disorderly conduct, disturbing the peace and trespassing, police said.
Police received a call around 10:50 a.m. Sunday reporting a person with a rifle in the woods behind Walmart, located at 450 Highland Ave. in Salem.
According to police, a backhoe was discovered behind the store with windows that appeared to be shattered by a projectile. Police said the evidence they collected on scene suggested the incident likely involved an air rifle and BBs as the projectile.
Salem police said there were no identified threats made to individuals during the incident or after.
The incident, however, prompted a large police presence in Salem and at a nearby neighborhood in Lynn, according to city police, who cited in a tweet the search for the suspect.
Police didn't originally say what the incident was, but Salem City Councilor Tim Flynn said in a tweet that it apparently involved someone shooting a gun into a car and fleeing into the woods nearby.
"I am horrified this is happening in Salem," Flynn said.
The scene was clear as of 4:15 p.m. Sunday.
Anyone with information on this incident is urged to call Salem detectives at 978-745-9700 or the anonymous tip line at 978-619-5627.