The search for suspects continues after an elderly man was pistol whipped in his home in Canton, Massachusetts on Tuesday.
Police say three men forced their way into the home of the man and his wife in an apartment complex on Aboretum Way. The men were looking for a relative of the victims.
The men pistol whipped the elderly man and tied his wife's hands and eyes with duct tape while they ransacked the home.
Two of the suspects were described as wearing blue hoodies, while the other wore a black hoodie. Police believe they fled in a Chrysler Pacifica with four occupants.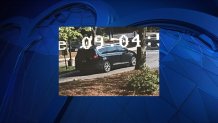 The man reportedly has a broken wrist from the attack, and has several stitches to his head from the lacerations he received. His wife is still being evaluated for chest pains.
Police say this attack is likely connected to a similar incident in Boston.
Anyone with information is asked to call Canton Police Sgt. Paul Gallagher at 781-828-1212 or Boston Police at 617-343-4328.