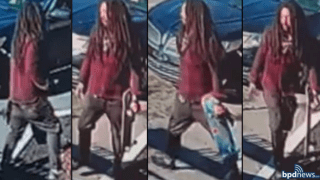 Boston Police is asking for the public's help in identifying a man wanted in connection to a knife attack that occurred earlier this month in the city's Roxbury neighborhood.
Police released images of a man they say was involved in an assault that occurred on Monday, April 10 shortly before 5p.m. in the area of 301 Warren Street.
Police describe the suspect as having long dreadlocks, and having a skateboard. According to police, the man frequents the parking lot of the Washington Street Park Mall, and the immediate surrounding area.
Anyone with any information is asked to contact Boston Police.