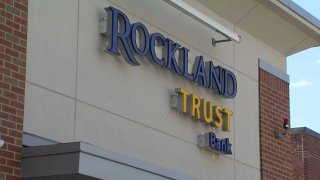 Police are looking for help finding a man about who attempted a particularly brazen version of what's known as a "grandparent scam" in Norwood, Massachusetts, this week.
The common scam often involves criminals calling or emailing someone and, posing as a relative, saying they're in trouble and need money to get out of it. But in Wednesday's suspected scam, Norwood police said, the person was driven to the bank by a suspected scammer.
An employee at a Rockland Trust bank contacted police about 3:30 p.m. to report the suspected scam, officials said. A senior had come into the bank to take out more than $9,000 after they received a call about a family member who'd been in a car accident and needed money.
Officers confirmed that the family member hadn't requested money or been in an accident. 
Then, the senior got another call and was driven to the bank by a balding man with white hair, according to authorities. That part of the story left police "very concerned," the department said in a statement.
Police are asking anyone with information about what happened to call Norwood police's non-emergency line at 781-440-5100.
"To prevent these scams, always call and check with family members on a known number. Don't send cash, wire money, or provide numbers from gift or cash-reload cards to a person claiming to be a grandchild. Scammers prefer those payment methods because they're difficult to trace," police said.