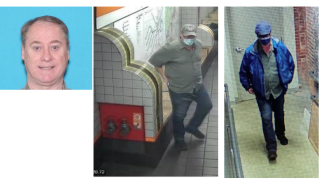 Police are looking for a man who allegedly exposed himself to a group of teenage girls at the MBTA's State Street Station earlier this week.
MBTA Transit Police said the incident occurred around 2:25 p.m. Tuesday on the westbound platform of the downtown Boston MBTA station.
They said a group of school children, all age 14 and female, said a man exposed himself to them.
Police released three surveillance photos of a person of interest, later identified as 62-year-old Wayne MacDonald of Boston.
MacDonald forcibly removed a GPS bracelet to elude detectives Friday, transit police said. He was last seen that day at the Chinatown MBTA station.
Anyone with information on MacDonald's whereabouts is asked to call (617) 222-1050 or send an anonymous text to 873873.