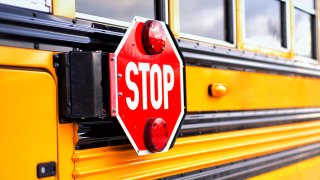 A "suspicious" man reported to police for talking to children Thursday morning at a bus stop in Whitman, Massachusetts, was simply a rideshare driver who was waiting for a fare and who had never spoken to the children, police said.
Whitman police had announced Thursday that they were investigating after a parent told them about a suspicious man talking to children about 8:15 a.m. at a bus stop on Beulah Street.
A parent said after a man in a gray SUV allegedly talked to the children and the children then boarded the bus, he drove after it into nearby Abington.
A student was able to provide police a picture of the man's license plate, according to police.
Through an investigation, officers were able to track the man down and speak to him. They found he is a Lyft driver who had just dropped off a customer and was waiting on another fare.
The driver told police he never attempted to speak to the children waiting for the bus, which the children also confirmed.
Whitman police initially notified Abington police about the incident and Abington authorities said they had a similar incident reported to them last Wednesday, according to Whitman police. Authorities have determined that the Lyft driver's vehicle does not match the description in that case.
Local
In-depth news coverage of the Greater Boston Area.
"This incident was a good example of how a student had the presence of mind to take a picture of the registration plate so that we had a lead to follow up on, and investigate the incident completely," Whitman Chief Timothy Hanlon said. "If we didn't have that registration we may not have been able to locate the vehicle and operator, and would have been left wondering if this incident was more than it turned out to be."