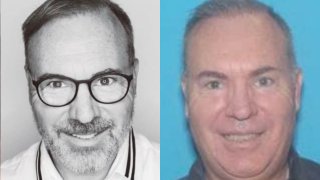 Police in Provincetown and Malden, Massachusetts, are asking for the public's help in locating a 56-year-old man who has been missing since New Year's Eve weekend.
Provincetown police said they are assisting Malden police in their search for Bruce Crowley, who was reported missing by a family member on Jan. 4 after a New Year's weekend stay in Provincetown.
He is described as 5'8" tall, with brown eyes and grey hair. He was last known to be driving a 2011 grey Mini Cooper with a Massachusetts license plate, but that vehicle was found by police in a parking lot in Provincetown.
Anyone with information about the investigation is asked to call Provincetown police at 508-487-1212 or Malden police at 781-397-7171.