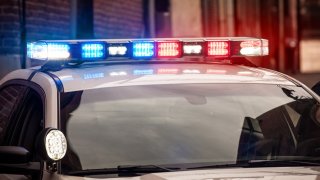 Police in Londonderry, New Hampshire have arrested a local couple who recently moved out of a house, leaving over a dozen cats inside without any care.
42-year-old Meghan Williams, and 59-year-old Robert Gerhold of Londonderry, were arrested by Londonderry Police on Thursday
Four of the cats were found dead inside the foreclosed home, police said.
The case dates back to October of 2022, when Manchester police said they responded to a home on Seames Drive for a report of abandoned animals in a foreclosed home. A neighbor told police he hadn't seen the owner in at least two weeks and could see multiple cats through a window.
Responding officers could smell a strong odor of ammonia coming through an open window. Inside, they saw furniture that had been flipped over, torn up, and that was covered in feces. They also saw a dead cat in the corner and several extremely thin cats on a couch. They did not look well and appeared to be missing fur.
Police found no food or water left out for the animals.
Over several days, animal control located and removed 10 cats suffering from serious health issues and four that had died.
Investigators eventually learned that the home's owner was Williams and Gerhold had also been living in the house at the time. Police said both of them were wanted on 14 counts of animal cruelty.