A man wanted for allegedly fatally shooting a person at random in Philadelphia last month and in two stabbings in Boston may be in the area, Boston police said Thursday.
Waner Pena Tejeda should be considered armed and dangerous, police said. He may be in Boston's Roslindale neighborhood; Lawrence, Massachusetts; or in Rhode Island.
Pena Tejeda shot and killed someone at random in Philadelphia on June 21, police said, shortly after he tried to shoot at two other people, only for his gun to malfunction.
He is also wanted in Boston in two stabbings, according to police, and recently threatened to kill members of his family.
Twenty-four-year-old Pena Tejeda may also go by the names Wagner and Elia. Boston Police described him as being 5-feet-10 and weighing about 180 pounds.
Anyone who sees him is asked to call 911 right away, and anyone with information is asked to call 617-343-4468 or send an anonymous tip in by calling 1-800-494-TIPS or texting "TIP" to CRIME (27463).
In June last month, Pena Tejeda allegedly killed 77-year-old Loi Nguyen while the man was on his morning stroll in North Philadelphia. Officers found Nguyen fatally shot in the head, NBC Philadelphia reported.
Local police released video of the shooting, showing a man in a red hooded sweatshirt following Nguyen.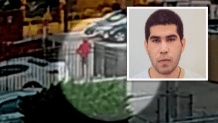 "Loi was walking down the back driveway, seemingly minding his business with his hands in his pocket," Philadelphia Police Chief Inspector Frank Venore said at the time. "An individual wearing a red hooded sweatshirt runs directly by him."
Local
In-depth news coverage of the Greater Boston Area.
Pena Tejeda had just pulled a gun on two people several blocks away, Philadelphia police said, but the gun malfunctioned when he pulled the trigger repeatedly. The pair tried to disarm Pena Tejeda, but he ran off; police didn't know why he tried to shoot them.
"What type of person would do that to another human being? I can't explain to you what is in a person's brain or doesn't have a heart that would do that," said Philadelphia Mayor Jim Kenney.
According to the arrest warrants obtained by NBC10 Boston out of the West Roxbury District Court, Pena Tejeda allegedly stabbed two people in separate incidents on Feb. 13 in Roslindale.
The first stemmed from a heated argument with a coworker that morning outside the Domino's Pizza on Washington Street, where he allegedly stabbed a man in the leg with a knife.
The second incident happened later that afternoon, when Pena Tejeda allegedly broke into an apartment and stabbed someone in the face and chest.
Police say he's also threatened to kill family his members.