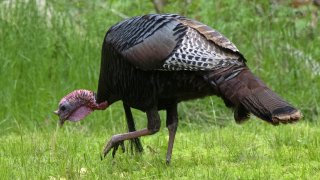 Turkeys have been following and intimidating people in Dedham, Massachusetts, including a U.S. Postal Service letter carrier, police said Tuesday.
The notice comes on the heels of the news that a U.S. mail carrier had to have his hip replaced after being attacked by turkeys in Cambridge last month.
Turkeys breed between March and May, a season when male turkeys try to establish dominance through aggressive behavior, Dedham police said.
"The best thing we can do to curb this behavior is to stop feeding them. (Of course, stop feeding other wildlife as well). This will help keep them farther from our front doors and busy parking lots," they said.
Last May, a turkey charged at a woman who was nine months pregnant and her husband and dog on their lawn in Dedham, an attack that was caught on camera.
Lydia McMahon told NBC10 Boston at the time she figured the turkey was just trying to protect the baby turkeys she was with — "something I can relate to, so I respect the move, but it was still scary for us," she said.
In Cambridge, mail carrier Eddie Mitchell said the turkeys that attacked him flew in his face, leaving him horrified — and with a long road to recovery.
"They started to gobble gobble," he told NBC10 Boston. "I was like, let me get back to my truck. I turned my bag to defend myself. I walked back to my truck and that's when they started making noises. Then they flew right in my face and knocked me over."
A postal service representative confirmed an attack in Cambridge to NBC10 Boston and said turkeys have been known to attack letter carriers.
"It's the hazards you don't expect, like the hose or rake under the leaves or the animal you've walked past 100 times without incident, that can take you by surprise. Turkeys, while sometimes docile, have also been known to be very territorial and can get aggressive if they feel threatened," Steve Doherty said in an email.
He didn't provide statistics on how many turkey attacks have been reported, but said that turkey encounters are common, but usually just a nuisance, blocking a vehicle or chasing a carrier on a route, which doesn't require a report.
Mitchell said he and others have complained about the turkeys — so common in Cambridge that they're sometimes suggested as a new mascot for Harvard's sports teams — for about a year.
More on Cambridge's turkeys