Sleet storms are among the worst types of storms for road crews to deal with, the Massachusetts Department of Transportation said, as officials warned of treacherous road conditions Friday.
One person has already been killed as hundreds of crashes have been reported across Massachusetts and the rest of New England. Massachusetts State Police said they had already responded to "well over 200" crashes with either injuries or property damage as a result of the storm.
MassDOT urged "extreme caution" Friday afternoon and asked drivers to stay home if possible. MBTA riders should check for schedule changes before leaving and expect delays on the way.
Much of the region is still buried in snow after Saturday's blizzard, but another round of winter weather has arrived. Our weather team issued a First Alert Friday for a flash freeze, where temperatures quickly plummet and any water on the roadways turns to ice. On top of that, there's icing from the precipitation falling.
MassDOT put a travel ban in place for the Massachusetts Turnpike for tractor-trailers, tandem trucks and special permit vehicles as of 10:30 a.m. A 40 mph speed restriction is also in place for all vehicles from the New York border to Logan Airport in Boston. They said as of Friday afternoon they have 3,900 pieces of equipment out trying to maintain the roads.
In northern parts of New England, over a foot of snow is expected in some areas.
The storm disrupted flights at major hubs in the U.S. on Friday morning, including Boston Logan International Airport.
Massachusetts Gov. Charlie Baker late Thursday ordered non-emergency employees in state executive branch agencies not to report to workplaces Friday, and schools and other employers also took steps to try to keep people off the roads as the temperatures drop Friday.
Hundreds of schools across New England announced closings or delays.
Numerous accidents had already been reported on Friday morning, including on Route 128 in Burlington and on Interstate 495 by Route 24.
State police said 48-year-old Elmer Rivas, of Worcester, was killed in a crash involving a tractor-trailer and another vehicle on I-495 north in Chelmsford shortly before 7 a.m. The scene was cleared by 10 a.m.
The driver of the tractor trailer, a 39-year-old man from Canada, told police Rivas was driving a Hyundai Elantra in the left lane and tried to take the exit, cutting off the truck. The exact circumstances surrounding the crash remain under investigation by state police.
Multiple crashes were reported on Interstate 95 as well, and two separate disabled trucks were causing delays in the O'Neill Tunnel in Boston.
New Hampshire State Police said at 6:45 a.m. that they were already reporting multiple crashes around the state due to the weather. The Everett Turnpike northbound in Merrimack was closed around 7:30 a.m. due to a crash. Crashes were also reported on Interstate 93 in Salem and Londonderry.
Another crash was reported on I-93 north in Bow.
Maine State Police said they have responded to more than 10 crashes on the Maine Turnpike since 6 a.m. as people are driving too fast for the icy road conditions. No major injuries have been reported.
The driver of a tractor trailer headed south on the turnpike in York lost control and struck the center guardrail, coming to rest in the center of the road, blocking all lanes.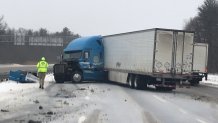 MassDOT didn't pre-treat the roads before the ice because the rain would have washed it away, officials said. They're asking people to avoid travel if possible.
"We can't put out material in deicing chemicals to prevent that ice from forming. We are going to be in reactionary mode throughout this storm tomorrow," Highway Administrator Jonathan Gulliver said. "If you must travel, please use extreme caution and leave yourself plenty of time to get to your destination. Plan ahead, know your route and leave early. And please take your time and be on the look out for icy conditions and keep it slow."
In Nashua, New Hampshire, signs along the Daniel Webster Highway warned of a winter weather advisory.
The MBTA also warned riders to allow for extra travel time due to anticipated delays.
Even after the storm pushes off to sea late Friday and Saturday, ice and snow were expected to linger through the weekend because of subfreezing temperatures.
The Associated Press and State House News Service contributed to this report.