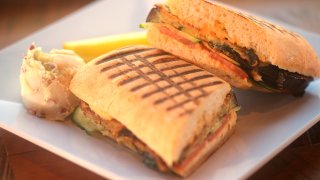 [This story first appeared on Boston Restaurant Talk.]
Back in 2020, it was reported that a growing group of dining spots that focus on healthy, freshly-made options would be expanding to a new location north of Boston, and now we have learned that it is finally open.
According to a source (Aron Levy), Pressed Cafe is now open in Chelmsford, moving into a space on Billerica Road in the Cross Roads at Route 129 development just west of the Route 3 intersection. The new location offers soups, salads, panani, breakfast dishes, and more, and it joins others in Boston, Burlington, and Newton, along with four in New Hampshire (Bedford, North Nashua, Salem, and South Nashua).
The address for the new location of Pressed Cafe in Chelmsford is 330 Billerica Road (Route 129), Chelmsford, MA, 01824. The website for all locations is at https://www.pressedcafe.com/
[Earlier Article]
Pressed Cafe Plans to Open in Chelmsford
Copyright Boston - Boston's Hidden Restaurants