Two Harvard students want to make T-stops in Cambridge, Massachusetts, safer for everyone by installing Narcan inside of Red Line MBTA stations.
"There's a lot of people who are unhoused around here, there's a lot of people that are kind of living their own walks of life, and there's some intersection of that with substance use disorders," explained Jay Garg, a Junior at Harvard and Policy Chair of The Harvard College Overdose Prevention and Education Students group.
The goal would be to stop overdoses in their tracks.
"Unfortunately in public transit stations and particularly MBTA stations here there is no public access to naloxone, and that's concerning because when we were doing research for this intervention we saw that almost 10% of overdoses in Cambridge occur in and around public transit stations," said Sajeev Kohli, a Senior at Harvard.
The duo has been working on the initiative for years, now pushing for naloxone to be publicly accessible.
"Right now it's looking like we'd want three naloxboxes in the station, so one in a restroom where there's a public restroom, and then one on the inbound platform and one on the outbound platform," said Garg.
"It takes only 3-5 minutes for someone who's experiencing an overdose to have irreparable brain damage, and so it's so important to administer naloxone within 3 to 5 minutes to save someone's life," said Kohli.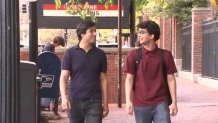 The idea is now a bill sponsored by Sen. John Keenan D, which if passed, would allow for an 18-month pilot program.
Local
In-depth news coverage of the Greater Boston Area.
"We're asking that the MBTA provide a report to show how it works out and if it works as we suspect then we will be looking to expand it across the entire MBTA system," Keenan told NBC10 Boston. "This is a way to at least prevent overdose deaths."
According to the students, dozens of public health organizations and advocacy groups are supporting the legislation.
A hearing date has not yet been set.
"I think that there's a real need for this and I think that this is going to have a positive impact so, I'm excited," said Garg.