A climate change protest was held outside of Gov. Charlie Baker's home in Swampscott, Massachusetts, on Tuesday morning.
Photos showed protesters chained to a large pink boat with "Climate Emergency" spray-painted on it. The protest started around 7 a.m.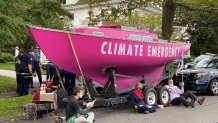 State police said they ordered the protesters to unchain themselves and disperse, and when they refused and continued obstructing traffic, troopers cut the devices holding the protesters to the boat and took them into custody.
First Lady Lauren Baker watched from the driveway as police sawed the protesters' chains.
"I don't approve of them being in front of the governor's house," said Eileen Patterson of Swampscott. "I totally think it's his home, leave him alone, go somewhere else with it."
Local
In-depth news coverage of the Greater Boston Area.
But public protests outside the governor's easily-accessible private home have become fairly common.
"I think the neighbors do have a valid gripe," said Dan Kennedy, a journalism professor at Northeastern University. "They didn't sign on for any of this."
Kennedy says while many states have governors' mansions to try to prevent this sort of thing from happening, he thinks it's a good thing the Bay State expects its governors to live amongst the people they govern instead.
"That isolates them more from the public than they are now, and I just think that would really be a shame," said Kennedy
"The difference between lawful protest and the commission of a crime is where the line needs to be drawn," said security consultant Dick Parry.
Parry says that's likely why arrests were made Tuesday morning and why incidents like the break-in here last October was taken so seriously.
Parry says it's also why police tasked with protecting the governor constantly monitor intelligence and adjust security measures to try to eliminate risks.
"At the end of the day," said Parry, "the governor has to make his own decision about how he feels best protected and best does his job as an elected official."
Eight people were booked on charges of disorderly conduct and trespassing before being arraigned in Lynn District Court on Tuesday afternoon. They include 38-year-old Nora Maynard of Montague, 47-year-old Jennifer Smith of Watertown, 32-year-old Allen McGonagill of Somerville, 23-year-old Alexander Chambers of Boylston, 69-year-old Gregory Margan of Somerville, 67-year-old Gerard Frank of Dudley, 31-year-old James Comiskey of Somerville and 27-year-old Dylan Sessler of Hampstead, New Hampshire, the Essex County District Attorney's Office said.
A pre-trial conference is scheduled on Nov. 4.