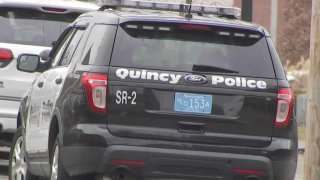 A person was taken to the hospital from a crash on a highway in Weymouth, Massachusetts, that involved a Quincy police cruiser, officials said.
The person was taken to South Shore Hospital from the scene on Route 3 by Exit 38, Massachusetts State Police said, though it wasn't immediately clear what condition they were in.
Two vehicles were towed from the crash site, which had closed two lanes on the southbound side of the highway.
The cruiser, which was carrying a police dog named Rom, was rear-ended at about 2:50 p.m., Quincy police said. The driver, Officer Dan Parisi, was taken to a hospital while Rom was taken the VCA South Shore Animal Hospital.
The driver who hit them was hospitalized as well, police said. All are expected to survive.