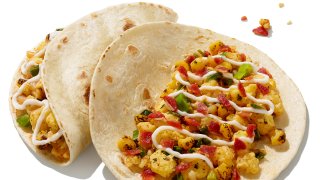 Dunkin' announced on Wednesday that the fast food chain was getting into the taco game with a new option for their breakfast menu and the reaction was mixed, to say the least.
NBC10 Boston followers on Facebook were none too pleased with this development.
"Please don't Dunkin, your food is already terrible," Matt Gorman said.
"Please stick to bad coffee and unexciting donuts," Bob Diener added.
"Get ready to taco 'bout a delicious new breakfast at Dunkin'!" the company had said in a news release Wednesday, the first day the new Dunkin's breakfast tacos were available in stores.
"You retired the Dunkaccino and gave us this?" Steve McMahan wrote, in reference to the recently discontinued Dunkaccino.
The company said the new tacos are designed to be eaten on the go, served in a taco holder to keep all of the ingredients from flying around your car.
The tacos are sold individually and are available for a limited time.