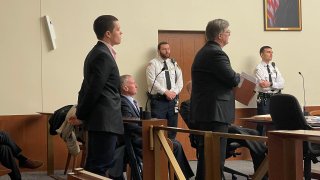 Massachusetts Congresswoman Katherine Clark's adult daughter, who was arrested in January over allegations of hitting an officer and defacing a monument in the Boston Common during a protest, was put on probation during a court hearing on Wednesday, according to prosecutors in Suffolk County.
On Wednesday, Riley Dowell received a pre-trial probation term of one year, with a number of conditions.
The conditions include completing 30 hours of community service, completing a community-based program, writing a letter of apology to the Boston officer — which has been done — continuing individual therapy, making restitution for expenses incurred by the city to remove spray paint and staying away from the Boston Common.
The case will be dismissed if the conditions are completed within the one year period.
Back in January, Boston police officers were called to the reported protest at the Boston Common.
Dowell allegedly spray painted "NO COP CITY" and "ACAB," which is an anti-police acronym, onto the monument. When officers were arresting Dowell, police said, a group of around 20 protestors began to surround officers, "while screaming profanities though megaphones on the public street causing traffic to come to a standstill."
One officer was hit in the face and was bleeding from the nose and mouth while arresting Dowell, according to the Boston Police Department, but the agency did not initially specify who was accused of striking the officer.
But a police report filed in court paperwork shared new details, including that the protesters had gathered in solidarity with a person killed by law enforcement after allegedly shooting a state trooper in Atlanta, according to police.
Dowell was seen on surveillance cameras spray-painting the Parkman Bandstand, then spotted by officers searching for the group of protesters, according to the police report. When one officer told Dowell to stop at the intersection of Boylston and Tremont streets, Dowell allegedly tried to get away by swinging her arms violently, hitting the officer.
A group of officers were able to place Dowell under arrest after a brief struggle.