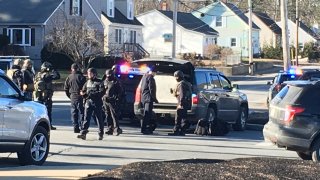 Police say an incident involving a barricaded subject in Billerica, Massachusetts, has been resolved safely without any injuries.
Residents on Bridge Street were asked to shelter in place for about two hours as police dealt with the situation on Friday morning. The incident was first reported around 9 a.m.
"The situation has been resolved safely and with no injuries" Billerica police said shortly after 11 a.m. on Twitter.
Bridge Street was closed to traffic during the standoff but is expected to reopen now that the situation has been resolved.
No further information was immediately available.