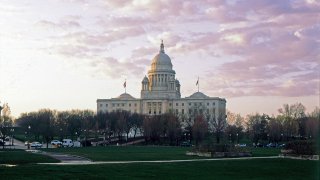 Lt. Gov. Daniel McKee is quarantining at home after coming into close contact with someone who later tested positive for COVID-19, officials said Saturday.
The lieutenant governor learned of the close contact Saturday morning, has since tested negative and is showing no symptoms, officials said. He will continue to be tested and will remained quarantined until midnight on Jan. 12, officials said.
McKee is poised to serve the remaining two years of Gov. Gina Raimondo's term after Raimondo was named Democrat Joe Biden's Biden's pick for commerce secretary.
McKee said in a statement that "no one is above the rules of quarantine."
"As a state official, I am committed to modeling the kind of response to this virus that I hope all Rhode Islanders would have. I will continue to meet with public health leaders and receive other critical briefings remotely," he said.
Copyright AP - Associated Press