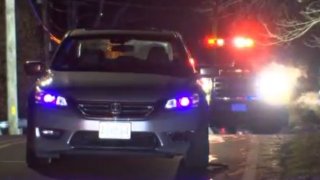 A 28-year-old man died after getting hit by a car while riding a scooter Sunday night in Norton, Massachusetts.
Mark Sullivan, of Norton, was driving the scooter down North Worcester Street when he collided with a gray Honda Accord around 9:20 p.m. The driver of the Honda, Jon Laprise, 18 of Norton, was not injured in the crash.
Police and firefighters found a bystander performing CPR on Sullivan in the middle of the roadway when they arrived on scene. First responders immediately rendered first aid, but Sullivan was pronounced dead on scene shortly after.
That area of 34 North Worcester Street was closed for approximately four hours due to the crash. No charges have been filed at this time. 
The crash remains under investigation by Norton Police, the Massachusetts State Police, the Bristol District Attorney's Office and the Office of the Chief Medical Examiner.