A horse named Gronkowski has been purchased, at least in part, by his namesake.
New England Patriots tight end Rob Gronkowski announced Wednesday that he had bought a substantial stake in Gronkowski, a 3-year-old colt that will be racing in the Kentucky Derby.
"This horse is a winner and I love a winner," Gronk said in a statement on his GronkNation blog. "When I heard about the racehorse being named after me, I started watching and got really stoked when he started winning. He's won his last three races and is now headed to the Derby. I'm all in: Welcome to the Gronk Family, Gronkowski the Horse!"
[NATL]Feathers, Hats and Horses: Crazy Fashion of the Kentucky Derby
Rob Gronkowski teamed with owner Phoenix Thoroughbreds Ltd. in a partnership arrangement for the horse ahead of the Kentucky Derby, which can be seen live on NBC on May 5.
"We are very excited to have this talented racehorse running in the Derby and to have Rob Gronkowski join our team," said Phoenix's Tom Ludt. "His involvement only adds to our growing credentials worldwide and can help us introduce the best of horse racing to a whole new audience."

Gronkowski the horse comes from a line of racers. According to Phoenix Thoroughbreds, the horse's father, Lonhro, was named Australia's Racehorse of the Year for 2003-04, and his maternal grandfather, Lookin at Lucky, has twice been an American champion.
As Rob Gronkowski pointed out, even though it's the first derby for the racehorse, the tight end attended the Kentucky Derby in 2015 along with quarterback Tom Brady and other Patriots teammates.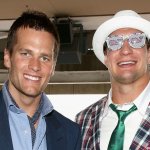 "I really can't think of anything cooler than having a top-class Thoroughbred named after me," he said. "Except maybe having him win the Derby."