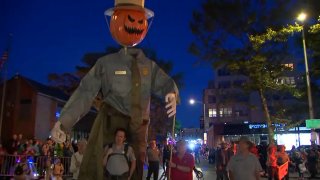 The weekend Salem, Massachusetts, waits for all year is finally here, and officials are getting ready to keep the city's tricks and treats running smoothly again.
Mayor Kim Driscoll and Police Chief Lucas Miller spoke Friday about how Salem is preparing.
"We have a lot of extra police, we depend upon the help from our colleagues in the state police, from NEMLEC, and from some of the surrounding cities and towns that lend us police officers on a mutual aid basis," Miller said.
"We're excited to host it, but we also think if folks can help us -- when you have a large crowd like this, you control us as much as we control you, so if everyone's courteous, thinking about how you get here, kind of planning ahead and coming with an attitude to have some fun, be expecting to wait a little bit longer than you might normally, we'll have a great holiday season for sure," Driscoll said.
Running for lieutenant governor, Driscoll talked about the importance of the holiday in the city.
"This is a special time in Salem, we've seen it grow from something that was really disruptive and not the type of crowds we want to have, to something that's just been a fun, family-friendly event that kicks off a fall season," Driscoll said. "I'll always love Halloween in Salem."
She also discussed why so many more have flocked to Salem this season than in past years.
"The pent-up demand from COVID, I think it's pretty clear, has led to larger-than-ever crowds," Driscoll said, also noting the release of Hocus Pocus 2 sparked greater interest.
At a briefing last week, they discussed how, as a record number of tourists visit the Witch City they hoped visitors would avoid taking public transit instead of driving in. Friday, she explained that there are about 6,000 public spaces, and there are about 100,000 people in town.
"Our roads were built for horse-and-buggy. They're not built for the regular amount of cars that we have, and so between gridlock and not enough parking," Driscoll said, "it becomes a real jam session trying to find a space to park, it's expensive."
(See planned street closures in Salem for the Halloweekend here.)
Over half a million people traveled to the Witch City in the first half of October, a 15% increase from the same period in 2021, officials said.
To deal with the extra stress such a large volume of people places on the cellular network, Verizon installed infrastructure downtown that can keep emergency responders connected, The Salem News reported.
"That has helped a little bit, but this is more people than the phone companies were planning on," Miller told the newspaper. "It's an issue."