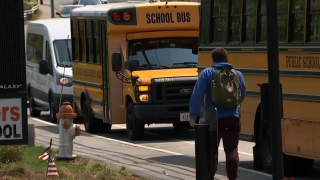 School bus drivers will go back to work in Marlboro, Massachusetts, ending a strike after three days.
The bus company, NRT, says it has reached a deal with the Teamsters Local 170, which represents the drivers.
Marlboro Superintendent Mary Murphy said in an email to parents Wednesday night that full bus service would resume immediately.
"I want to thank the Mayor of Marlborough, the School Committee, and the Marlborough School Administration, as well as their staffs and constituents, for their patience and support during this challenging and stressful period," Tim Sheehan, senior vice president of operations for New England at NRT, said in a statement.
Initially, there were three communities working on separate, but similar, deals: Marlboro, Framingham and Westboro. A deal was reached in Framingham on Sunday night with NRT, so routes there have been normal.
No deal has yet been reached in Westboro, but bus drivers in that town have not been on strike. NRT said Wednesday night that the company and the union had agreed to let drivers in Westboro vote on whether they want to remain in the union. Both sides agreed to pause contract negotiations until that point.
A formal statement from the union is expected in the morning.