A search Friday in Revere, part of the ongoing investigation into the murder of 5-year-old Harmony Montgomery in 2019, has concluded, Massachusetts State Police said. No new details were revealed.
Police from New Hampshire and Massachusetts were searching a location in Revere as part of the investigation, the New Hampshire Attorney General's Office announced Friday.
"Due to the ongoing investigation, no additional information will be released at this time," the attorney general's office said in a statement. "Officials caution against any speculation related to the potential results of this search."
Massachusetts State Police did provide some additional details, saying they are searching an area of wetlands along Route 107 in Revere along with Manchester police. They said the search began shortly after 9 a.m. and was "prompted by information developed by investigators."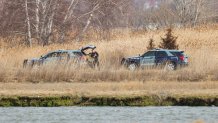 The search was conducted by about two dozen officers, including troopers, state police K9 teams, the state police drone unit and Manchester police officers. The Massachusetts State Police Special Emergency Response Team, which specializes in difficult terrain, was involved.
"That's very manpower-intensive," said Bunker Hill Community College Professor Richard Fox, an expert in forensic science. "And I don't believe they'd be devoting those type of resources unless they were pretty sure of the area that they were looking in."
Because Harmony's body has never been found, Fox says it's critical that investigators gather more evidence as the murder case heads to trial.
"They will certainly have to have something to provide evidence that the little girl is, indeed, deceased," said Fox.
"What we're waiting to find out is why this occurred," said Professor Dianne Berg at Clark University.
Berg has researched the history of parents killing children and how suspects conceal the crime.
"These acts are usually the behavior of someone who's panicking," she said.
"This is very tricky, because now you're also talking about all the wildlife that lives in those environments," Fox said of the search area. "Animals will scatter remains."
Harmony's father, Adam Montgomery, was indicted in January on a second-degree murder charge in his daughter's death. Authorities allege that he killed his daughter by repeatedly striking her in the head with his fist.
She was 5 years old when she was last seen in 2019. However, her disappearance did not come to light until December of 2021. Her remains have not been found.
Adam Montgomery is accused of fatally beating her around Dec. 7, 2019, and concealing her body by March 4, 2020. Other charges against him include abusing a corpse, falsifying evidence and tampering with witnesses.
Just last week, he was indicted on unrelated gun charges.
Harmony's stepmother, Kayla Montgomery, pleaded guilty in November to perjury charges, agreeing to cooperate in the case against Adam Montgomery.
In exchange, prosecutors dropped charges that Kayla Montgomery lied to state health officials about having the child in her care in order to collect welfare benefits and that she received stolen firearms.
Court records show Kayla Montgomery was interviewed by investigators in June and told police that "Harmony had been murdered in December 2019" by Adam Montgomery, and that Adam had encouraged Kayla "on multiple occasions to lie to police about Harmony's whereabouts, basically giving Kayla a 'cover story' and telling her that as long as she stuck to the cover story everything would be OK."
Harmony's mother, Crystal Sorey, said this kind of information should have been revealed to investigators a long time ago.
"When these two people knew she was deceased for two years and 10 months," Sorey said.
The New Hampshire District Attorney's Office said their investigation into Harmony's disappearance continues, and anyone with information about her murder or the location of her remains is asked to call or text the 24-hour tip line dedicated to her case at 603-203-6060.