One of the nation's largest student loan companies might have driven struggling borrowers into costlier repayment plans.
That's according to the findings of a secret federal audit, which reviewed the practices at Navient.
The audit, obtained and first reported by the Associated Press, bolsters claims the student loan giant steered borrowers into more lucrative repayment plans instead of discussing options that would have allowed them to pay less over the life of their loans.
The NBC10 Boston Investigators reported growing allegations against Navient earlier in November.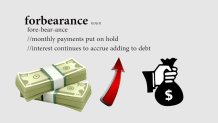 One UMass Amherst graduate described being steered into forbearance instead of an income-based repayment plan. During forbearance, monthly payments are put on hold. However, interest continues to accrue, adding to the total amount of the loan.
Despite several lawsuits filed by state attorneys general, along with a federal case brought by the Consumer Financial Protection Bureau (CFPB), the Department of Education did not share the details of the audit, the AP reported.
Local
In-depth news coverage of the Greater Boston Area.
The education department has repeatedly argued that state and other federal authorities do not have jurisdiction over Navient's business practices.
That stance has drawn the ire of Sen. Elizabeth Warren, a frequent critic of the student loan industry.
In response to the audit, Warren sent a letter to Navient CEO Jack Remondi about the findings of the report.
"Navient told the public there was no merit to the CFPB lawsuit even after it received an Education Department audit that bolstered the allegations and found the company was not adequately servicing student borrowers," Warren said. "Navient needs to explain the appalling findings of this audit and why the company denied that it had existed."
The Delaware-based company has denied allegations in the lawsuits. In response to the audit, the company defended its practices and said its federal contract doesn't require customer service representatives to mention all options available to borrowers.
Navient also said the audit shows the vast majority of borrowers are provided the best options for their financial circumstances.
As the NBC10 Boston Investigators previously reported, the Massachusetts Attorney General has an ongoing investigation into Navient's business practices.
Ryan Kath can be reached at ryan.kath@nbcuni.com. You can also follow him on Twitter or connect on Facebook.