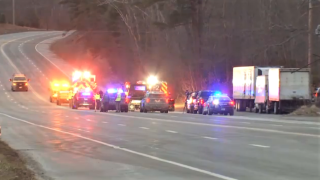 A 25-year-old Rhode Island woman was killed in a 2-vehicle crash that shut down a portion of Route 1 for about two hours Tuesday morning in Wrentham, Massachusetts.
The crash, which involved a Ford Fusion and a tractor-trailer, occurred shortly before 4 a.m. on Route 1 near High Rock Road.
A preliminary police investigation showed the Fusion was driving south on Route 1 and drifted across the center line, striking the tractor-trailer, which was headed northbound.
The driver of the Fusion, 25-year-old Kerri Coppinger, of Woonsocket, Rhode Island, was pronounced dead at the scene, police said.
The driver of the tractor-trailer, 32-year-old Alan Medina Baez, was uninjured.
No charges have been filed.
Both vehicles were towed from the scene by around 7 a.m. A section of Route 1 northbound at Thurston Street and southbound at East Street was closed off while crews cleared the scene, according to the Massachusetts Department of Transportation.
Wrentham Police Chief Bill McGrath wrote on Twitter that the department was working with Massachusetts State Police to investigate the fatal two-car crash.
Sign up for our Breaking newsletter to get the most urgent news stories in your inbox.