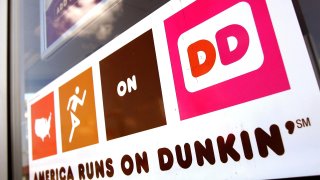 Dunkin' is not just in the northeast anymore. It's everywhere these days. But have you ever wondered which parts of the country have the most Dunkin' locations?
It's probably not surprising that the northeast continues to have the highest Dunkin' density -- it's where the chain started, after all, and it's so much a part of the region's DNA that it spawned its own Saturday Night Live sketch starring Casey Affleck, whose older brother Ben and his wife Jennifer Lopez just starred in a Dunkin' Super Bowl commercial on Sunday night.
Cole Perry, a Tennessee resident who describes himself on Twitter as a "regional airport enthusiast, aspiring grocery chain proprietor and suburban theorist," created his own heat map showing which parts of the U.S. -- broken down by Congressional District -- have the most Dunkin' stores.
The answer? Massachusetts' 8th Congressional District, which has 151 Dunkin' locations, or as Perry put it, an "astonishing" 1 for every 5,249 people. The 8th District includes parts of Boston and numerous other communities south of the city, including Braintree, Brockton, Bridgewater, Dedham, Hingham, Hull, Quincy, Scituate, Walpole and Weymouth.
Here are the Top 10 congressional districts with the most Dunkin' locations:
MA District 8: 151
MA District 9: 135
NH District 1: 125
MA District 6: 125
MA District 4: 124
MA District 3: 118
MA District 7: 118
CT District 2: 116
CT District 1: 111
MA District 5: 106
New York's 12 Congressional District checked in at #15 with 94 locations, Rhode Island's 2nd District at #16 with 87 and New Jersey's 7th District at #17 with 86 and 5th District at #20 with 84. Maine's 2nd Congressional District placed 18th with 86 stores.
Outside of the northeast, the top finisher was Illinois' 7th Congressional District at #26, with 80 locations.
You can view the full list here.
Perry's map was based on data pulled from Dunkin's website between Aug. 2-9.