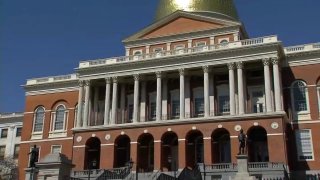 Senators voted Thursday to eliminate the eight-year term limit on their chamber's top post, clearing the way for Senate President Karen Spilka or any of her successors to serve in that role indefinitely.
The Senate voted 32-6 in favor of a rules amendment offered by Sen. Michael Rodrigues, a top Spilka deputy whom she has repeatedly appointed to the key Senate Ways and Means Committee chair post, rescinding the decades-old cap on the president's tenure.
All three Senate Republicans -- Minority Leader Bruce Tarr of Gloucester, Sen. Patrick O'Connor of Weymouth and Sen. Ryan Fattman of Sutton -- voted to keep the term limit in place, as did Democrat Sens. John Keenan of Quincy, Becca Rausch of Needham and Walter Timilty of Milton. None of the opponents spoke about the amendment before casting their votes.
Generally speaking, elected officials who run legislative branches prefer not to operate as lame ducks because they may lose leverage as they negotiate spending and policy differences. On the other hand, term limits on leadership posts give lawmakers an opportunity to move up and prevent one person from cementing their grip on power for extended periods.
Rodrigues, the only senator to speak about the issue during Thursday's session, argued that the Senate president's status as the lone legislative leader with a term limit puts the chamber at a disadvantage in negotiations with the House and executive branch.
"Why should we continue to have restrictions that only leave the Senate president as an outlier in respect to our counterparts, who have no such restrictions?" Rodrigues told his colleagues.
The House on several occasions has subjected its speaker to a term limit, but representatives voted most recently in 2015 to spike that measure when then-Speaker Robert DeLeo was approaching the allowable end of his time wielding the gavel.
Local
In-depth news coverage of the Greater Boston Area.
The Senate approved Rodrigues's amendment as part of internal rules for the 2023-2024 session (S 17). Senators also plan to debate their chamber's proposed joint rules governing House-Senate interactions and joint committees (S 18) later on Thursday.
Copyright State House News Service