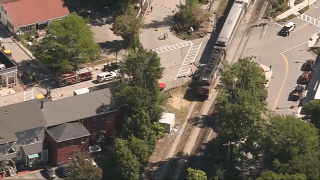 A man was seriously injured after he was struck by an MBTA Commuter Rail train in Concord, Massachusetts, on Wednesday morning.
Concord police said the crash occurred around 10:30 a.m. at the Commonwealth Avenue crossing. The Concord police and fire departments both responded to the scene.
Initial reports from Concord police said the train had struck a vehicle. But they later said that the incident involved a person and not a vehicle.
MBTA Transit Police said an adult male intentionally entered into the right of way as a Commuter Rail train was approaching. The man suffered serious injuries and was taken to a hospital. An update on his condition was not immediately available.
Main Street at Commonwealth Avenue, Laws Brook at Commonwealth Avenue and Maine Street at Church Street are all currently closed. Motorists are urged to avoid the area.
Concord police said a medical helicopter would be landing at Rideout Field.
Keolis, which operates the Commuter Rail, said Fitchburg Line Train 409 out of North Station has been terminated at West Concord and passengers will be accomodated by train 411 out of North Station. In addition, train 410 out of Wachusett has been terminated and passengers will be accomodated by train 412. There may be additional delays and cancellations, Keolis said.