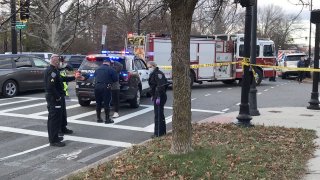 A bicyclist was struck and killed by a utility truck Tuesday afternoon in Milton, Massachusetts, state police reported.
Police said the victim was riding a bike on Blue Hills Parkway at Eliot Street when the crash occurred. The victim was later identified as 70-year-old Virginia Chalmers, of Dorchester.
The truck involved belongs to Eversource and company officials said it was cooperating in the investigation.
"This was an absolutely tragic accident. Our heartfelt condolences go out to the victim's family and friends. We'll support and assist with the investigation to understand how this accident took place," read a statement from Eversource.
The company added that they would assist their employees "who were overtaken with grief."
"We are committed to understanding how this happened and what, if anything, could have been done to prevent this tragedy," Eversource said.
Local
In-depth news coverage of the Greater Boston Area.
State police said the 62-year-old male operator of the truck was taken to an area hospital but did not provide any further details.
Due to the crash investigation, police temporarily closed area roads and asked motorists to seek alternate routes.
Chalmers was a former principal in the Boston Public Schools system, according to the Boston Teachers Union.
"We are deeply devastated and heartbroken to share that Jinny Chalmers, long time BPS educator and beloved retired principal of the Young Achievers K-8 Pilot School, tragically passed away in a bike accident yesterday."
"Jinny Chalmers is wife to Ilene Carver, one of our BTU organizers. This is a deeply personal tragedy and loss to the entire BPS and BTU community."
The union added that Chalmers' wife appreciates all the "messages and gestures of love" and that a public memorial service would be held at a future date.