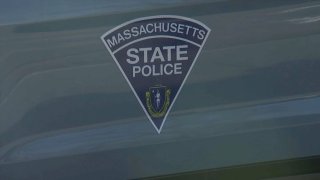 A man lost control of his pickup truck while driving on Interstate 495 on New Year's Day in Chelmsford, Massachusetts, striking the guardrail, going airborne and then hitting another car head-on on the opposite side of the highway, killing that driver and seriously injuring its passenger, authorities said.
The 29-year-old, from Manchester, New Hampshire, who was driving the truck was also seriously injured in the crash on I-495 southbound, Massachusetts State Police said.
Troopers, along with the Chelmsford police and fire departments, responded to the two-vehicle crash around 1:18 p.m. Sunday and found one person dead and two with serious, life-threatening injuries, according to state police.
A preliminary investigation shows a Chevrolet Silverado was traveling northbound when the driver lost control for reasons still under investigation. The truck crossed all lanes of traffic, striking the guardrail and then going airborne and landing in the middle lane of the southbound side of the highway at which point it slammed into a Subaru Impreza.
The driver of the Subaru, a 23-year-old Lowell woman, was pronounced dead on scene, police said. Her passenger, a 25-year-old Lowell woman, suffered serious injuries.
The truck driver was the sole occupant in his vehicle.
Due to the severity of the injuries sustained by the truck driver and the Subaru passenger, a medical helicopter was called to the scene, police said. Both people were taken to Lahey Clinic. There was no update on their conditions Sunday night.
Local
In-depth news coverage of the Greater Boston Area.
Both sides of the I-495 were closed for approximately 15 minutes while the helicopter landed. The Massachusetts Department of Transportation said the ramp from Route 4 to I-495 southbound was temporarily closed for the Medflight and the scene was clear by 5:30 p.m.
MassDOT initially said two vehicles were involved in the crash on I-495 at mile marker 88 and confirmed a medical helicopter was called to the scene for a report of serious injury. There had been no update for several hours on the severity of injuries or number of people involved.
The victim's name has not been released, and police did not release the names of either person who was hospitalized following the collision.
The fatal crash remains under investigation. It was not immediately clear if the Silverado driver would face any charges in the wreck.
Later Sunday, there was another fatal crash in Chelmsford, after a car struck two utility poles and rolled over on Littleton Road, killing the 30-year-old man behind the wheel.