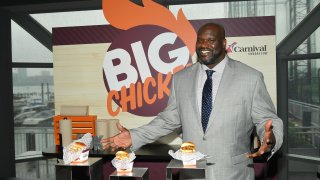 [This story first appeared on Boston Restaurant Talk.]
A chain of chicken spots that was founded by an NBA hall of famer will be expanding to the Greater Boston area.
According to an article from Eater Boston, Shaquille O'Neal's Big Chicken restaurant chain is planning to open six locations locally, with two local franchisees bringing them to the region. It isn't yet known exactly where any of the outlets will be, nor is it known when they might open, so stay tuned for updates.
Big Chicken was founded in 2018 by Shaq, who started his career as a center with the Orlando Magic in 1992, subsequently playing for the Los Angeles Lakers, Miami Heat, Phoenix Suns, and Cleveland Cavaliers before finishing his career with the Boston Celtics in 2011. His restaurants--which also have JRS Hospitality and Authentic Brands Group behind them--offer a variety of chicken sandwiches as well as popcorn chicken, sliders, tenders, macaroni and cheese, and more.
The website for Big Chicken can be found at https://www.bigchicken.com/
Copyright Boston - Boston's Hidden Restaurants